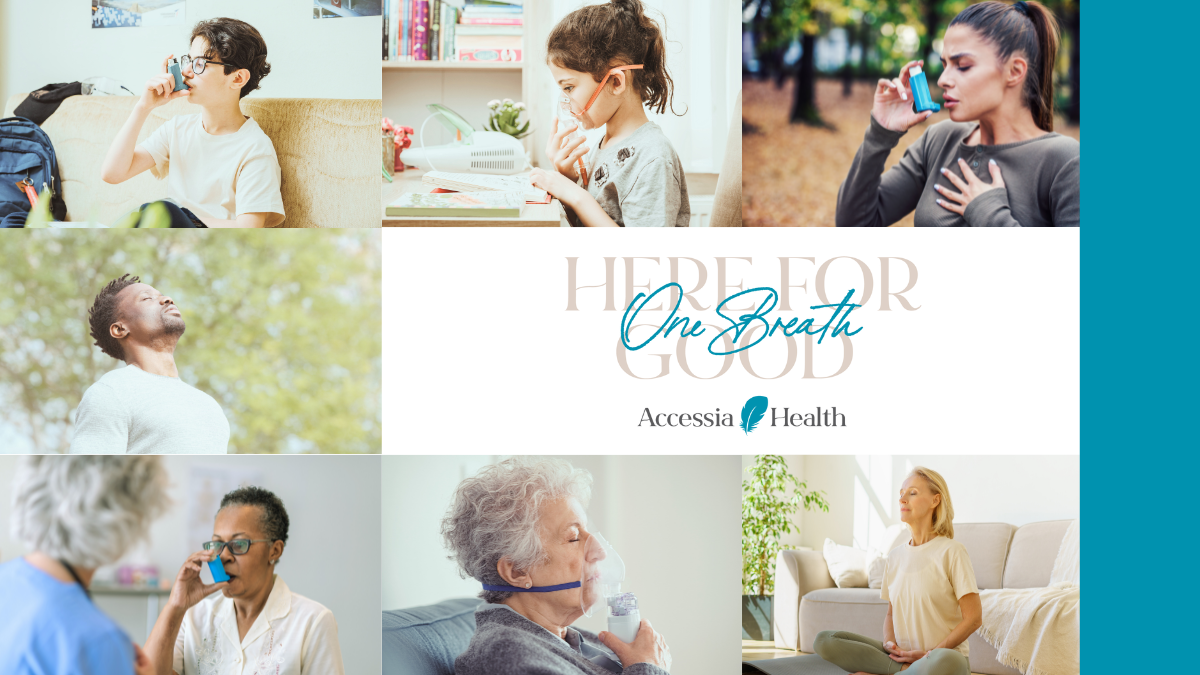 Accessia Health Announces MedicoCX as National Supporter of One Breath Asthma Raise
National Asthma Raise will help to eradicate asthma in treatment deserts
RICHMOND, Va. (April 27, 2023) – To kick off National Asthma Awareness month, Accessia Health, a leader in nonprofit patient assistance, today announces MedicoCX, a national healthcare organization, as the national supporter of its One Breath Asthma Raise. Together, the organizations will raise funds – with a goal of $1M – to improve access and financial assistance for patients with asthma and allergies, specifically those in medical treatment deserts.
Following their strategic partnership announcement in 2022, Medico and Accessia Health are expanding their collaborative efforts to launch their first large-scale fundraising event, with a $10,000 donation from Medico to kick off the campaign. An average of 10 people die each day from asthma attacks, and around 25 million Americans live with the disease. These individuals face medical bills up to $5,000 per year for treatments, with an annual economic cost of $82 billion. Of the 25 million Americans living with asthma, 19 million live below 450% of the federal poverty limit, which presents an economic challenge for access to asthma care. Those who choose to donate to the One Breath National Asthma Raise will provide the funds necessary so those who can't afford their treatments can get them.
"Our mission at Accessia Health has always been to provide financial assistance, education, and related services to those who need it most: patients and families living with chronic medical conditions or disabilities. The One Breath campaign will allow us to recruit new donors and physician groups to reach patients in need of asthma care and services," said Gwen Cooper, President and CEO of Accessia Health. "One breath may be all it takes to save someone suffering from asthma and we're committed to  eliminating asthma in allergy treatment deserts so people have access to the treatments that they desperately need."
The One Breath Campaign will improve healthcare accessibility and outcomes for asthma and allergy patients and their families by combining the power of the MedicoCX network with Accessia Health's mission to provide assistance and support to patients. Accessia Health has distributed over $1.1 billion to patients throughout the country, helping them navigate their way through the complexities of the healthcare system by providing insurance case management, education and financial support to pay for health insurance premiums, medication copayments, medical treatments, travel, and most ancillary medical expenses. 
"Medico is thrilled to support the One Breath Campaign as our organization works tirelessly to improve access to treatment and medication," said MedicoCX CEO Elizabeth Johnson. "In order to support this campaign we are inviting all Medico members to get involved and help us improve access and adherence by relieving the financial burden of affordability." 
To learn more about Accessia Health and its services, visit www.accessiahealth.org.
###
About Accessia Health
Accessia Health is a leader in nonprofit patient assistance providing financial assistance, programs, and services for people with rare and chronic medical conditions. Today, Accessia Health is leading the charge to expand this model through a community-based approach that ensures all people have access to healthcare regardless of their zip code or diagnosis. Accessia Health operates pursuant to an Advisory Opinion of the HHS Office of Inspector General, allowing the organization to pay for the healthcare needs of qualified individuals.  Learn more about Accessia Health and its services at www.accessiahealth.org.
About MedicoCX
Founded in 2020, MedicoCX is a group of independent specialists, primarily allergists, dedicated to providing evidence-based and standardized care while also capitalizing on cumulative buying power in an effort to decrease the cost of medical supplies and medications, including biologics. By consolidating resources and working toward a unified mission, MedicoCX helps improve patients' access to care, medication adherence, and other health-related outcomes while reducing waste and decreasing the overall cost and burden to our members' practices and the healthcare system as a whole. Contact MedicoCX at support@medico.cx or 208-642-0300. 
Media contact: 
Dittoe Public Relations; AccessiaHealthPR@dittoepr.com