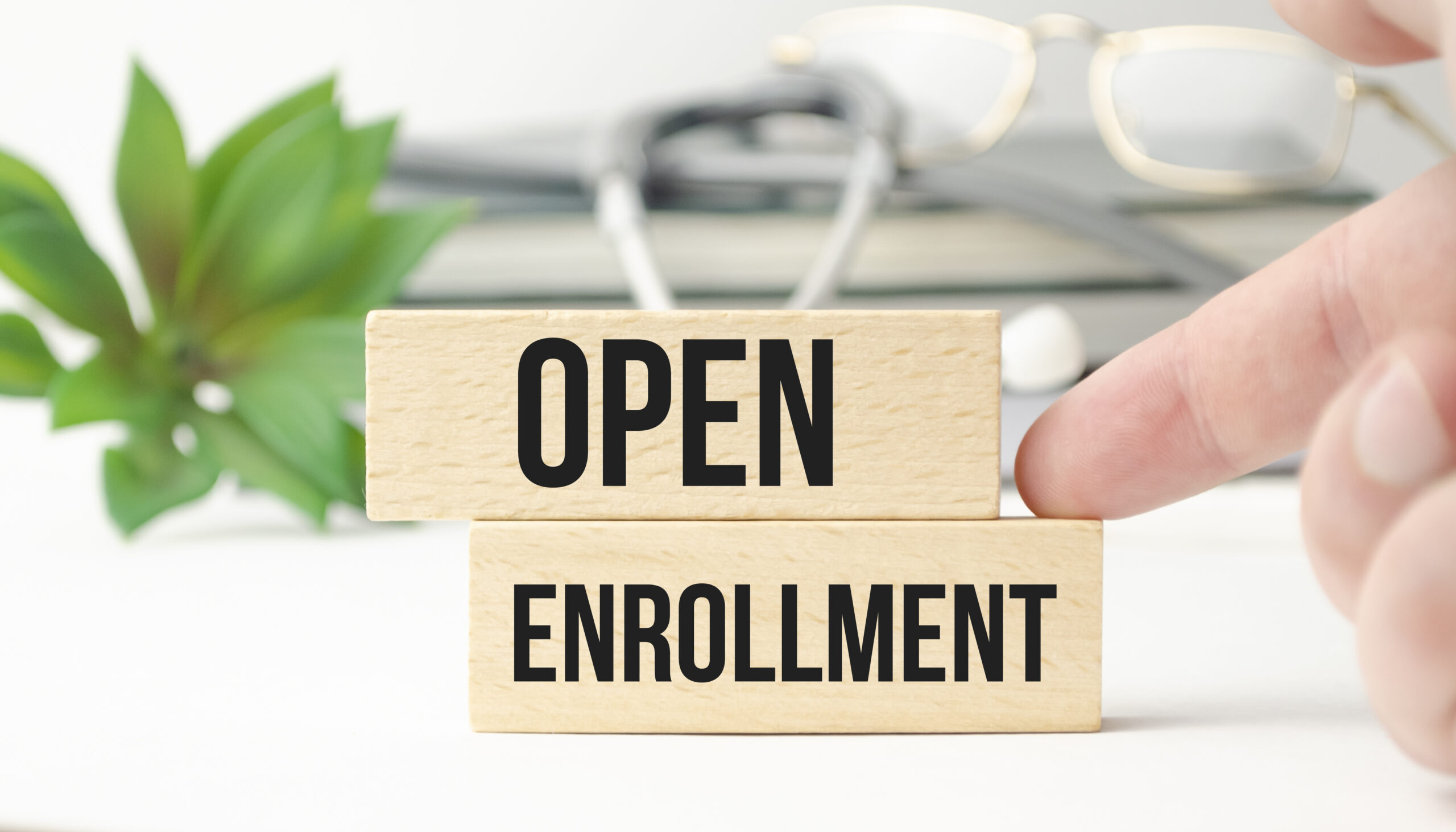 Ready for Open Enrollment? Tips for Taking Control of Your Healthcare
October 27, 2023 – Open Enrollment season is here for 2024 coverage and for many, navigating the complexities of healthcare plans, coverage options, and benefits can be daunting. One of our goals at Accessia Health is to empower individuals with the knowledge to take control of their healthcare decisions.
Whether you are selecting a health insurance plan for the first time, or reevaluating your existing coverage, our goal is to equip you with the information needed to make an informed decision, and choose the best plan to meet your unique needs.
Open Enrollment occurs during a set time each year and allows you to review your current health insurance, compare other plan options, or sign up for the first time. It is very important to understand how an insurance plan will cover your healthcare needs, and the financial responsibility that you may incur. Choosing a plan that doesn't meet your needs – or missing the set enrollment deadlines – may result in having to wait another year to enroll. Exceptions may apply if you qualify for a Special Enrollment Period (SEP) due to certain life events. We'll touch on this more later.
There are two important open enrollment periods that occur this time of year: Medicare Open Enrollment and Marketplace Open Enrollment. Let's take a closer look at each.
Medicare Open Enrollment 
Medicare is a health insurance program for people 65 and older, or certain younger people with disabilities or specific diseases.
For 2024 coverage, Medicare Open Enrollment began on October 15, 2023 and ends December 7, 2023. (Remember, if you miss this window, you may qualify for a SEP; read more about these special life events for Medicare here.)
During the Medicare Open Enrollment time, individuals can switch from Original Medicare (Part A and Part B) to a Medicare Advantage Plan (Part C), or vice versa. They can also change from one Medicare Advantage Plan to another, or from one Medicare Part D (prescription drug) plan to another. Below is a breakdown of what these terms mean. *It is important to note that you cannot enroll in Medicare Part A or B during the Open Enrollment period.
Original Medicare (Part A)
Hospital insurance.

Helps cover inpatient care in hospitals, skilled nursing facility care, hospice care, and home health care.
Original Medicare (Part B)
Medical insurance.

Helps cover services from doctors and other health care providers; outpatient care; home health care; durable medical equipment (like wheelchairs, walkers, hospital beds, and other equipment); and many preventive services (like screenings, shots or vaccines, and yearly "wellness" visits).
Medicare Advantage Plans (Part C)
Another route to receive your Medicare Part A and Part B coverage.

Offered by Medicare-approved private insurance companies that must follow rules set by Medicare.

 Offers several types of plans to choose from.

Sets a yearly limit on out-of-pocket costs, known as an "out-of-pocket maximum." This is the set amount of money you have to pay for covered health care services. If you meet that dollar amount, your insurance will pay 100% of all covered health costs for the rest of the plan year.

Most Medicare Advantage plans include prescription drug coverage, but some do not.
Prescription drug plans (Part D)
Covers the cost of prescription drugs. 

 The cost of your prescriptions will depend on your plan's list of covered drugs.

You remain in Medicare Part A for hospital insurance and Medicare Part B for medical insurance.

If you enroll in a Medicare Advantage plan that includes prescription drug coverage, you do not need to enroll in a separate prescription drug plan.

All plans must cover a wide range of prescription drugs.
Click here to see how much Medicare costs, and here to check when and how to sign up. You can also apply for the Medicare Part D Extra Help program or a Medicare Savings Program (MSP) through your local Medicaid office.
Marketplace Open Enrollment 
The second type of insurance is the Health Insurance Marketplace, which we'll simply call "Marketplace," a place for individuals and families to shop for and enroll in private health insurance, often with income-based credits to lower costs.
For 2024 coverage, Marketplace Enrollment starts on November 1, 2023, and ends on January 15, 2024. *Dates may vary depending on the state you live in, as many states use the Federal Marketplace exchange, but some states operate a state based exchange. Find your state here.
We know choosing an affordable health insurance plan can be complicated. There are three key items to note when navigating Marketplace coverage options:
You can purchase individual coverage using a Marketplace exchange or directly from an insurance company. However, you can only apply for savings if you purchase the plan through the Marketplace. Click

here

to learn more about Marketplace savings. 

Marketplace plans are categorized by "metal levels" to determine how you split your healthcare costs with the plan.

Platinum

:

Your estimated costs will be around 10% while the plan pays an estimated 90%. These plans typically have higher premiums and are not available in all areas.

Gold

: Your estimated costs will be around 20% while the plan pays an estimated 80%.

Silver

:

Your estimated costs will be around 30% while the plan pays an estimated 70%. If you qualify for additional savings called "cost sharing reductions", you can only get those savings if you are enrolled in a Silver plan. Click

here

to learn more about cost sharing reductions.

Bronze

: Your estimated costs will be around 40% while the plan pays an estimated 60%. These plans generally have lower premiums but higher out-of-pocket costs for care.

Catastrophic plans are available to individuals under 30 years old, and individuals over 30, with a hardship or affordability exemption. These plans have low premiums but very high deductibles.  Click

here

to learn more about catastrophic plans. 
Most Marketplace plans do not include adult dental coverage. However, the Marketplace does offer separate dental plans for you to purchase, which have separate premium costs.  
This year, in most states, Marketplace Open Enrollment ends on January 15, 2024. After this date, you can enroll or change plans only if you qualify for a SEP. Please note that in 2024, you can continue to qualify for a SEP if you are eligible for an Advance Premium Tax Credit (APTC), and your income does not exceed 150% of the federal poverty level. APTC is a tax credit you can take in advance to lower your monthly health insurance payment (or "premium"). If you're eligible, you can enroll in an Affordable Care Act (ACA)-compliant health plan through the Marketplace at any time during the year using this SEP. However, it may not be available to everyone, as state-based exchanges can choose whether they want to implement this SEP.
Click here to check what you need before you start your application. 
Tips for Open Enrollment
Whether enrolling for Medicare or Marketplace, it's important to review your current coverage and anticipate future needs. Keep the following tips in mind.
Refamiliarize yourself with your existing coverage. What's working? What's missing that may be resulting in frequent out-of-pocket costs? Make note of these items.

Review the changes for the new year, and make sure the items or services currently covered will be covered in the new year.

Ask yourself if any life changes, such as a career or household income change, need to be considered. This may impact your overall healthcare costs including the monthly premium. 

Compare all the plans available to you. While this can take a lot of time, reviewing each plan, and the differences between them, will help you make an educated decision that's best for you

This also means knowing the basics of health insurance terms, like copayment, or "copay." A copay is a fixed amount for a covered service, paid by a patient to the provider of service before receiving the service. Typically, plans with low premiums – or insurance price – are more likely to have high copays. 

You may also see and hear the word "deductible." A deductible is the amount of money that you, as the insured person, must pay before your insurance policy starts paying for covered expenses.

When taking a look at the plans available, make sure you review the plan's overall costs, including drug formulary – also known as a "drug list" – meaning a list of prescription drugs covered by a prescription drug plan or another insurance plan offering prescription drug benefits.
Some common plan types you'll find when reviewing coverage options that include provider networks:
Preferred Provider Organization (PPO):

You pay less if you use providers in the plan's network. You can use doctors, hospitals, and other providers outside the network for additional costs.

Health Maintenance Organization

(HMO):

No out-of-network providers will be covered, and you will be 100% responsible for the cost of a provider visit if not in the network, except in an emergency. An HMO may require you to live or work in its service area.

Exclusive Provider Organization (EPO):

Services are only covered if you go to doctors, specialists, or hospitals in the plan's network (except for emergencies). 

Point of Service (POS):

A plan where you pay less if you use doctors, hospitals, and other health care providers in the plan's network. These plans require a referral from your primary care doctor to see a specialist.
If you are currently employed or eligible for employer sponsored coverage through a spouse or parent, the Open Enrollment period may vary. Contact the employer for more information about important dates and plan options. 
Learn More
At Accessia Health, our commitment goes far beyond conventional copay assistance. We provide a financial safety net for patients living with chronic diseases, which is increasingly important for those with limited incomes. Our dedicated case management specialists are at the heart of this effort and serve as a bridge between patients and essential healthcare resources.
Our role involves assisting patients with understanding the ins and outs of Medicare, Marketplace, Group, COBRA, and Medicaid; investigating their health insurance benefits to ensure they are billed correctly; and educating patients on healthcare topics that could impact their coverage and overall well-being. 
Click here to learn more about Accessia Health and our offerings, including insurance case management, or explore the links below to learn more about these topics.
Accessia Health is here to help you. Reach out to us any time with questions about choosing the plan that is right for you by emailing casemanagement@accessiahealth.org.