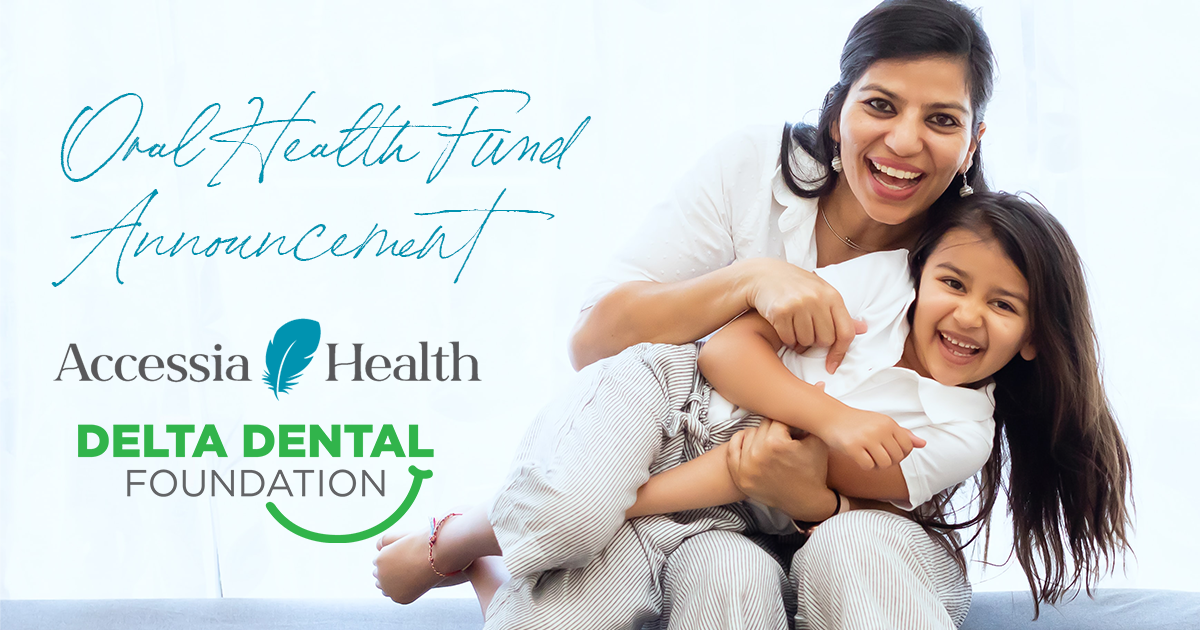 Accessia Health Receives Delta Dental Foundation Grant for Indiana Oral Healthcare Assistance Program
Program will work with healthcare specialists to identify patients with critical oral healthcare needs
Midlothian, VA (February 1, 2023) – Accessia Health, a national patient assistance nonprofit, received the first of its kind grant from the Delta Dental Foundation. The $50,000 grant will launch the Healthy People. Healthy Indiana. Oral Health Fund to provide financial assistance to people living with rare or chronic conditions who need immediate and urgent oral care.
Vital oral health care procedures are often required by medical specialists before critical treatments for their diagnosis are administered. Poor oral health directly contributes to an increase in chronic disease. By promoting oral health prevention and early treatment, it is possible to improve long-term outcomes for those with chronic disease.
"This program won't just pay for care—it'll also help specialty providers offer oral health education to their patients," said Holli Seabury, EdD, executive director of the Delta Dental Foundation. "Together, we'll identify patients who are putting off critical dental treatment due to cost of care and ensure they receive the services they need most."
The cost of obtaining oral health care is often the barrier people face in getting the treatment they need. "Funding from the Delta Dental Foundation will allow us to immediately improve access to overall care for Hoosiers who otherwise would go without," states Gwen Cooper, Accessia Health CEO, and a Hoosier herself.
"Our Healthy People. Healthy Indiana. Oral Health Fund is the pilot program under Accessia Health's nationwide initiative Healthy People. Healthy Communities. We are thrilled to be able to partner with the Delta Dental Foundation to offer our services and expertise to a population that needs it in order to obtain further health care treatments for their chronic conditions, while also closing the gap in access to critical care," said Cooper.
Accessia Health's Healthy People. Healthy Communities. is a nationwide initiative that aligns with the CDC's Healthy People 2030 project and will tackle health disparities by meeting people where they are, community by community. Healthy People. Healthy Communities. programs are funded through national events, state, federal and corporate grants and donations, foundation, and individual gifts. Through partnerships in local communities, Accessia Health will scale this initiative across the nation, changing lives one zip code and diagnosis at a time.
The Healthy People. Healthy Indiana. Oral Health Fund is available for those who have a demonstrated need for immediate oral health care services and financial assistance. Individuals interested in applying for assistance should visit www.accessiahealth.org/patient-programs.
About Accessia Health
Accessia Health, a national patient assistance nonprofit, provides financial assistance, programs, and services to people with rare and chronic medical conditions. Accessia Health is leading the charge to expand this model through a community-based approach that ensures all people have access to healthcare regardless of their zip code or diagnosis. Accessia Health operates pursuant to an Advisory Opinion of the HHS Office of Inspector General, allowing the organization to pay for the healthcare needs of qualified individuals. To date, Accessia Health has distributed over $1.1B in patient financial assistance. Learn more at AccessiaHealth.org.
About Delta Dental Foundation
The Delta Dental Foundation is a nonprofit, charitable organization established in 1980, which serves as the philanthropic arm of Delta Dental of Michigan, Ohio, Indiana, and North Carolina. DDF is dedicated to developing and enhancing partnerships and programs to improve oral and overall health and health equity. For more information, visit www.deltadental.foundation.
Media Contacts:
Anna Brown, VP Marketing and Communications
Accessia Health
502-432-1981
abrown@accessiahealth.org
Jen Anderson, Senior Communications Officer
Delta Dental Foundation
517-375-5507
jmanderson@deltadentalmi.com