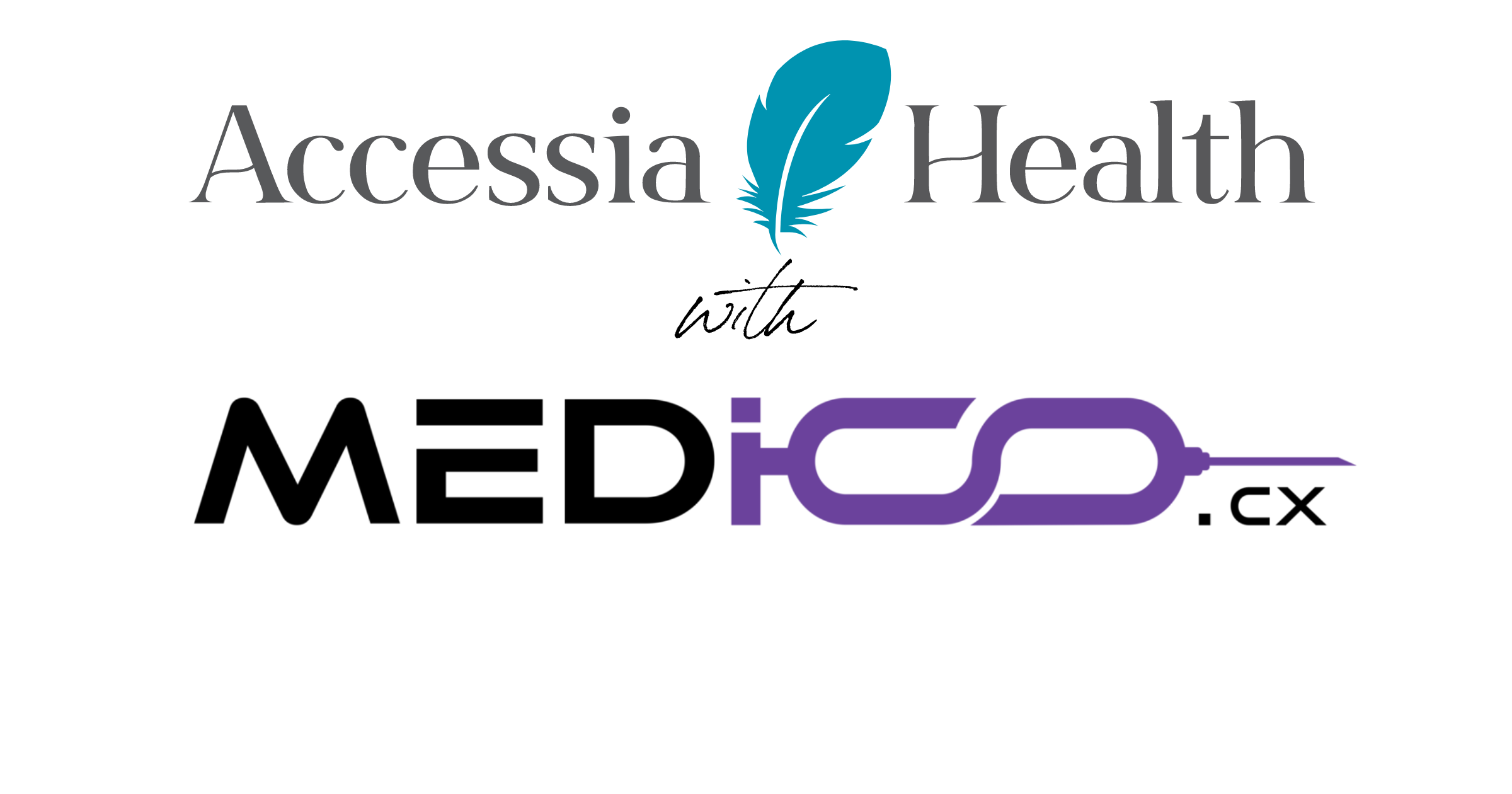 Accessia Health and MedicoCX Join Forces to Eradicate Asthma in Allergy Treatment Deserts
April 29, 2022 — Strategic collaboration will improve access and provide financial assistance for patients with asthma and allergies 
RICHMOND, Va. A leader in the nonprofit patient assistance space, Accessia Health, today announces its strategic collaboration with national healthcare organization MedicoCX. Together, the organizations will prioritize policy and procedure developments to promote a market for improved access and financial assistance for patients with asthma and allergies, specifically those in medical treatment deserts.
"We are delighted to announce our collaboration with MedicoCX, an opportunity that expands our network and ultimately allows us to serve more patients," said Gwen Cooper, President and CEO of Accessia Health. "The mission of MedicoCX aligns seamlessly with our own organization's goals of improving health outcomes, increasing access, and lowering costs for patients. The entire Accessia Health leadership team and I are eager to kick off this strategic alliance to support patients with asthma and allergies in underserved communities across the U.S."
What is MedicoCX?
Established by a group of community based physicians in 2020, MedicoCX promotes evidence-based, standardized care for patients across the country. The organization strives to maximize inter-practice communication, provide support and best practice advice to its members, and make a difference in the lives of all patients by working to decrease the cost of medical supplies and medications, including biologics.
Leveraging the MedicoCX network and combining it with Accessia Health's unique ability to provide financial assistance for patients through established disease fund programs. this collaboration will improve reach, access, and health outcomes for allergy and asthma patients. The need for increased access to asthma and allergy therapies is great. Over 25 million Americans have asthma at an annual cost of $83 billion. Of this number, 19 million live below 450% of the federal poverty limit. Ten Americans die per day from an asthma episode. One dying is too many.
"Aligning with a pivotal leader in the patient assistance network like Accessia Health is a significant milestone for us – and one we are excited to reach," said Elizabeth Johnson, CEO of MedicoCX. "Our organization was built on improving patients' access to care and medication adherence while reducing waste and decreasing costs for patients and practices. In working with Accessia Health, we are able to purposefully advance that mission for our asthma and allergy patients nationwide. It's time we improve the statistics around asthma and allergies, and this collaboration is sure to do that."
The Time Is Now
The strategic alliance comes on the heels of Accessia Health's rebrand. This marks the beginning of the next chapter as it continues to blaze new trails for patients.
Established in 1989, Accessia Health has distributed over $1.1 billion to patients throughout the country, providing specialized legal services, insurance case management, and financial support to pay for health insurance premiums, medication copayments, medical treatments, travel, and most ancillary medical expenses. Patients currently in need of financial support for their treatment, including those with asthma and allergies, can find information on available funds online.
To learn more about Accessia Health and its services, visit www.accessiahealth.org.
###
About Accessia Health
Accessia Health, formerly Patient Services, Inc. (P.S.I.), is a pioneer in nonprofit patient assistance for people with rare and chronic medical conditions. Founded by patients for patients, Accessia Health is leading the charge in providing financial support and guidance for qualified individuals by offering healthcare education, financial assistance, specialized legal services, and case management. Learn more about Accessia Health and its services at www.accessiahealth.org.
About MedicoCX
Founded in 2020, MedicoCX is a group of independent specialists, primarily allergists, dedicated to providing evidence-based and standardized care while also capitalizing on cumulative buying power in an effort to decrease the cost of medical supplies and medications, including biologics. By consolidating resources and working toward a unified mission, MedicoCX helps improve patients' access to care, medication adherence, and other health-related outcomes while reducing waste and decreasing the overall cost and burden to our members' practices and the healthcare system as a whole. Contact MedicoCX at support@medico.cx or 208-642-0300.
Media Contact: Janet Haver, janet@dittoepr.com, 704-238-7892