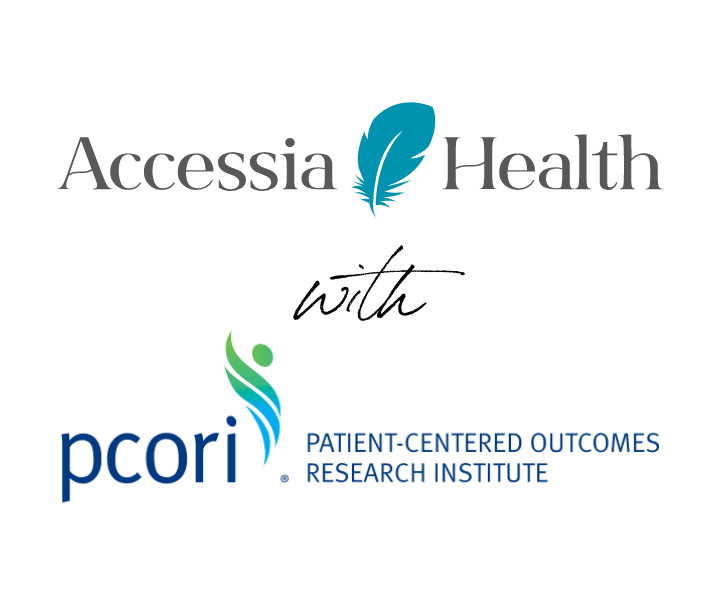 Accessia Health CEO Appointed to National Research Institute's Advisory Panel
August 10, 2022 — Gwen Cooper, President & CEO, will help shape PCORI's patient-centered research efforts.
The Patient-Centered Outcomes Research Institute (PCORI) appoints Gwen Cooper, President & CEO, Accessia Health, as member of its Advisory Panel on Patient Engagement.
Joining other members on the national panel, Cooper will apply her expertise in helping PCORI refine and prioritize the research it funds. She will also ensure that the research PCORI supports centers on the outcomes that matter to patients and other healthcare decision makers. PCORI is an independent, nonprofit organization authorized by Congress to fund research that will provide patients, their caregivers and clinicians with the evidence-based information needed to make better-informed healthcare decisions.
Accessia Health and PCORI
President and CEO Gwen Cooper was selected from hundreds of applications based on her experience, knowledge, and ability to contribute to the panel's mission. Panel members represent a broad range of healthcare stakeholder groups and perspectives. This included patients, family caregivers, clinicians, drug and device makers and researchers, among others.
"PCORI represents the exact journey I have been on both personally and professionally.  It is an honor to serve on the Patient Engagement Advisory Panel to learn, contribute, collaborate and, ultimately, help implement novel ways for patients to not only make better-informed healthcare decisions, but to benefit from those decisions," says Cooper.
President and CEO Gwen Cooper
With more than 25 years' experience working in all facets of the healthcare industry, Cooper is well versed in identifying patient needs. She keenly understands the importance and impact of healthcare on patients, caregivers, family and friends. PCORI's work matches her experiences both as a caregiver and professional working with healthcare providers, payers, and policymakers, beginning years ago at the community level to her current national position at Accessia Health.
For over two decades, Cooper has been committed to improving patient access to healthcare by advocating for and implementing change at the local, state, and federal levels. She looks forward to using her voice and perspective to ensure the needs of patients are heard and addressed.
More information about the Advisory Panel on Patient Engagement, including its scope of work and a list of all members, is available on the PCORI website: https://www.pcori.org/
###
About Accessia Health
Accessia Health is a pioneer in nonprofit patient assistance for people living with rare and chronic medical conditions. Founded by patients for patients, Accessia Health is leading the charge in providing financial support and guidance to qualified individuals by offering healthcare education, financial assistance, specialized legal services, and case management. Accessia Heath serves patients nationwide with offices in Richmond, Tampa and Louisville.  Learn more about Accessia Health and its services at www.accessiahealth.org.
About Patient Centered Outcomes Research Institute (PCORI)
The Patient-Centered Outcomes Research Institute (PCORI) is an independent, nonprofit research organization that seeks to empower patients and others with actionable information about their health and healthcare choices. Since its authorization by Congress in 2010, PCORI has awarded more than $3 billion to fund nearly 2,000 research and related projects. Lear more about PCORI at www.pcori.org.
Media Contact:
Anna Brown, VP Marketing and Communications
502-432-1981
abrown@accessiahealth.org